What to Look for When Hiring a Designer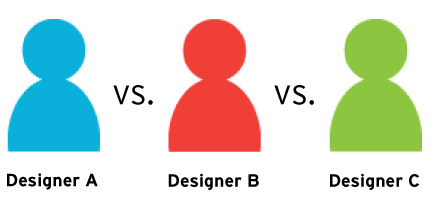 Hiring a graphic designer to create something isn't an easy task. The best design is a custom-tailored solution that could only work for that specific brand. Therefore you can't expect to go to the store and simply pick up a pre-made logo, package or website that "fits" your brand.
But if you aren't buying something that already exists, how do you know what design team is right for you? How do you choose?
Over the years I've come to define a few telltale signs and measuring tactics. I  follow these principles when hiring a designer myself.
Personality Fit
This list isn't necessarily in order, but personality fit is certainly the cornerstone to any good creative relationship, and in the end tends to trump all other considerations. You and your creative team must be able to discuss complex, confidential business and creative issues. Often these are linked directly to financial matters, while other times it may also touch on interpersonal issues within your organization. You must both be able to speak your mind without reservations. A good designer should be able to speak eloquently about their profession, they should also demonstrate that they are listening to both your spoken and unspoken needs. Remember, you are entering in a relationship… the rules for dating often apply here!
Approach and Process
If your designer does not have a clear process for how they will unearth your needs and translate them into creative solutions, they should not be leading your project. Many creatives are used to being hired by other designers and being told what to do. These designers are helpful hands for tactical execution and production work, however they may not be able to effectively generate an innovative solution from scratch. Be wary of designers who try a bunch of "stuff" to see what sticks. This buckshot approach rarely leads to quick or effective solutions. This approach is more like a meandering drive in the car with no clear destination. A design leader will insist on a clear and direct process for documenting your needs and developing solutions.
Past Work
Short of a really good crystal ball, there is no guarantee of what your project's final vision will be. That's why a look back is the only reliable gauge, and a designer's portfolio is always a good measure. The visceral sense of "Do I like this work? Are their layouts pleasant to look at?" is a great place to start.
Their past work should showcase not only the visual aspects, but the thinking that was behind it. You're not looking for someone to "pretty things up" here. Rather, you are seeking a creative professional to help you solve specific business objectives. A good designer should demonstrate this willingly in their work. Be wary of designers who are willing to show you sample or "pitch" creative solutions for free. Although you may like these off-the-cuff solutions at first, the likelihood that they truly solve your business challenges is very low. Chances are the designer invested exactly what they were paid for on those solutions, which is nothing.
Ask if the designer has solved challenges that are similar to yours, but don't get too caught up on this issue. Previous experience can be a positive or a negative for creativity. Too much experience in one area can leave a designer burned-out producing staid creative because they already "know" the solution. Fresh eyes and fresh perspective often breed the most innovative solutions. Experience with the media, the industry, or other companies with similar challenges is often enough.
Brand Identities
An identity, or logo, is the purest essence of a brand. It is also a very hard-working design tool. It must be memorable, legible, and indestructible — able to work in harsh design conditions from one color, to tiny on a business card, or giant on a billboard. I always look at a designer's brand identity section of their portfolio to see if they know how to edit themselves and the big idea down enough to create a simple and elegant logo. If I find their logos overly complicated, fussy, or unclear I know they'll have a hard time bringing clarity to more complex layouts.
Budget
A savvy shopper will find that design can be purchased at an extremely wide range of budgets. The range of budgets is complex, but often boils down to a few common factors: time and experience. A seasoned designer knows what their expertise is truly worth and is more well-versed at the time required to execute that job properly. A less experienced designer will be more eager to take on the work for the opportunity to round out their portfolio. This can provide a value, however, they also tend to underestimate the time required to complete a project. Be wary of time delays as a result.
When reviewing budgets from several design firms, it is often challenging to get an apples-to-apples comparison. Providing what is often called  a Creative Brief, a tight set of project specifications, can help you receive estimates for a similar scope of services. If a designer you really like is coming in higher than other estimates, do not let this deter you. Ask your designer how they arrived at their pricing. Chances are they are providing more time and services than the lower estimates. Many designers are open to working with clients to revise their scope of work to meet a desired budget.
Size of Team and Team Members
The size of a design firm and the make-up of the team members on the team can often affect pricing as well. Generally speaking, larger studios with multiple team members are more expensive than solo-practitioners. When considering an independent designer for a project make certain you feel they are up to the task. What happens if another job comes in? Who will work on your project? When considering a larger team ask who will be on your team. Are the people you are meeting with up front going to be the same people to see you through the end result?
Follow Their Own Prescriptions
We all know the expression about the shoemaker's children having no shoes. It happens. However, we find it compelling if a designer is practicing the principles and tactics for marketing that they are asking you to embark on as well. I wouldn't want to drink someone's kool aid if they wouldn't drink it themselves.
Happy design hunting. I hope these tips  help your efforts! Feel free to post a comment and let me know if these tips worked for you or if you have any other suggestions to add to the mix by  leaving a comment or sending me an email sheri@mslk.com