Customer-Centric Social Media for Fashion + Beauty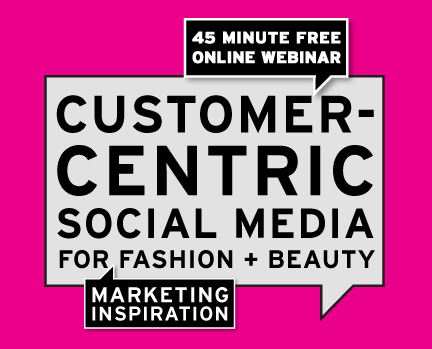 Every fashion and beauty business is keenly interested in expanding their marketing into social media platforms. The natural inclination as a marketer is to approach these platforms as yet another media for traditional messaging and campaigns. However, this is not the most successful approach. Although brands should maintain a brand image on these platforms that is consistent with other traditional media, the conversation on social media platforms should not be a one-sided ad campaign. Social media should be regarded forums for customers, customer communication, and customer service.
Social media are places where brands should ask themselves what can I do to truly help and inspire my customers? If a one-on-one conversation with your customer at retail is invaluable to your brand, think of these platforms as opportunities to do that on a global scale. Use this unique insight into their world to connect with them personally.
Making this personal connection is often easier for brands when they have a relatively small fan base, especially when they know the core responders and fans personally. However, what can a large or growing brand do to maintain that connection as the fan base grows?
If these challenges and topics are relevant to conversations you are currently having in your business, please join us for our FREE webinar Wednesday July 20th, 2011 at 12:00 PM EST. During our discussion we'll explore tools and strategies businesses can use to talk to and connect with thousands of fans on a personal level.
Customer-Centric Social Media for Fashion + Beauty
Wednesday July 20th, 2011
12:00-12:45 PM EST
Can't make it to the live event? No problem! Register and we'll send you a link to the recording.
Register for FREE here!