Sheri Koetting to Speak On Social Media Strategies at the Fashion News Workshop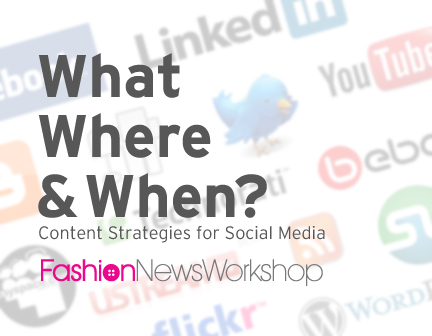 Join Sheri L Koetting, co-founder and Chief Strategist at MSLK, at the Fashion News Workshop as she discusses current content strategies in her lecture What to Post Where & Why: Content Strategies for Social Media. Learn how to get the most out of your social media outlets by investigating how to:
• Find the right Social Media platforms for your brand
• Make all content online more engaging and interactive
• Leverage the new relationships consumers are forming online to encourage word-of-mouth referrals
• Respond to new consumer behaviors with targeted promotions
• Track and analyze the overall brand sentiment consumers are conveying
Date: April 27th, 2011
Time: Noon – 1:30PM (Lite lunch served)
Place: Fashion Center, Business Improvement District
209 West 38th Street, 2nd Floor

$20 for Members; MSLK guests for free!
Please RSVP here
No payments at the door
Also featuring Judi Roaman of The Accessorator on The Success of a Global Blog on Accessories for Home & Apparel.