Smart Copy = Smart Brand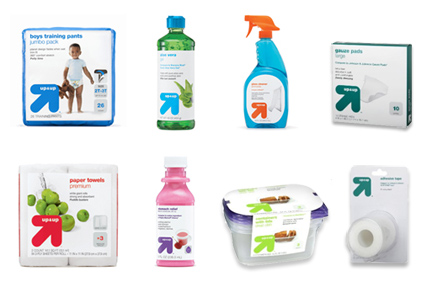 This weekend I finally got a closer look at Target's relaunched private label brand, Up & Up. Private brands have a tricky task in distinguishing themselves from the national brand competition. One common approach is to design packaging that works cross-catagory, so the brand has a consistent look from the electronics section to the frozen food aisle. The downside to this approach is the design often appears generic. And while I like the look of Up & Up, it is admittedly generic. They've combatted this with smart copy lines on the front of each package. Boring paper towels become "puddle busters," standard aloe vera gel is "after sun aaaaah," and just like that the cheaper brand becomes the smarter brand.
While designers tend to focus on the look of the brand, the voice is just as important. It can elevate everyday brands and help clearly define a brand's position in the market.
Here are some other good ones:
petroleum jelly: no dry zone
bandages: outta site
aloe vera gel: after sun aaaaah
dryer sheets: fold tastic
sunscreen: supreme screen
paper plate: picnic platters