A New Installation of Watershed, Created by School Children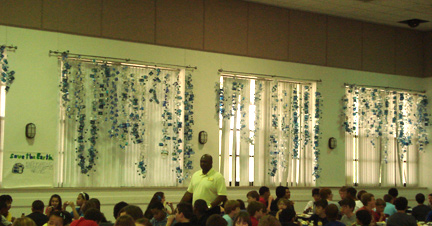 Earth conscientious students at Smithton Middle School in Columbia, Missouri have recreated MSLK's eco-art installation, Watershed. The installation was created by the Eco-Art Club and 6th grade Art Study Hall students. Several months ago, Amy H. Company, Art Specialist at Smithton Middle School read about MSLK's eco-art installations Take-Less, Watershed, and Urban Tumbleweeds and became inspired. Amy reached out to MSLK asking if it would be ok if she led the students through the process of  recreating Watershed.
The students collected the bottles and began creating strands which have been on display in the school cafeteria, as seen in the image above. Last week they began researching facts and figures for the informational signage which will accompany the installation when it moves to downtown Columbia this week for the Earth Day celebrations. MSLK will share an image of the final installation as soon as it become available.
Congratulations to Amy and all the students for realizing such a large project and great job inspiring others to think twice about bottled water.
This Earth Day remember, our natural resources were not given to us by our parents, they were loaned to us by our children.