Crossing the Pond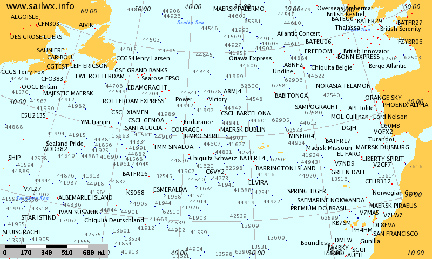 MSLK is about to get a new car rather, a MINI Cooper. Slightly bigger than a breadbox, it's the perfect city car, and being well-designed, it's an entirely suitable car for us. After mildly considering a few alternatives, Sheri and I kept coming back to the charming little British roadster. I was enthralled by the retro-ness, impressive performance and eligibility for more parking spaces. Sheri loved its cute factor. A short test drive cinched it. There was a secret society of MINI. And we wanted in.Once we decided to take the plunge and become part of the fanatical MINI community, we dove right in, exploring every nook and cranny of the MINI website. I learned every detail in the catalog. There were many options to choose from, and part of the whole MINI experience is building the car of your dreams online using the highly interactive website. After spending a few weeks deliberating over the choices ("I need heated seats more than you need a chrome-lined interior!"), and a few dramatic showdowns with car dealers, I finally got a great deal on exactly the car we wanted: Red with a white roof, mirrors, and wheels. Sunroof. Heated seats. All built to order at the MINI factory in Oxford, England. It's now been a few weeks since I ordered the car, and the anticipation is getting more and more intense. Restlessly I've been googling images of MINIs, hungry for more. I've viewed 10,000 YouTube videos of test drives. I've read 4,000 reviews (all positive). The world of MINI owners is an ever-expanding one, where accessories and aftermarket add-ons are plentiful. There are numerous forums and clubs to cater to all of your whims and desires.The marketing geniuses have totally turned me fanatical. I'm now blindly calling the hood "the bonnet" and the trunk "the boot." It's now completely natural for me to do so, and I have yet to even own the thing. There's a great promotional packet of loose cards given to me which was designed to propagate the brand's mythology and cult status. Aside from the test drive, it really sealed the deal. Starting out, it appeared innocently enough as an elegant book with a sharp-looking black band.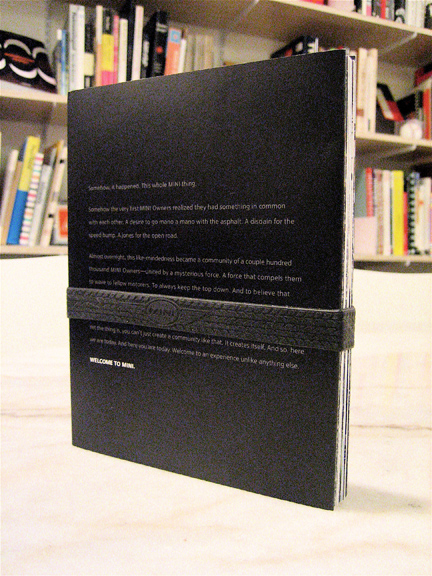 Upon closer inspection, the band features a rubber tire tread emblazoned with the MINI logo…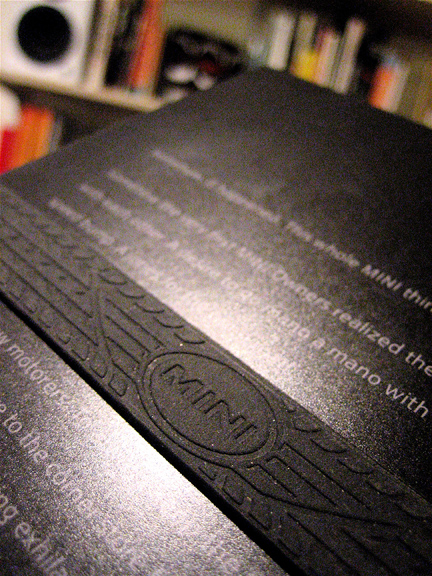 Inside it's all loose pages which are vying for your attention. Beautiful design mixed with uber-clever copy. It's a pornicopia of technolust… and I'm guilty of indecent overexposure.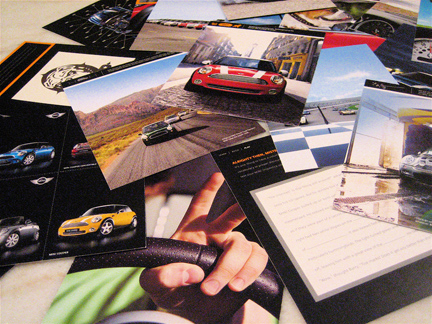 The official MINI website has a wonderful "owners lounge" section which is perfectly tailored to those who've placed their orders and are waiting patiently to take delivery. The site even tracks the various stages of production your MINI is in — from the assembly line, through transport, to the dealer.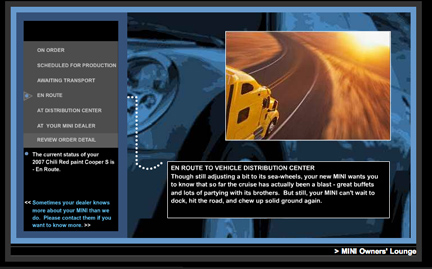 This information on the site was fine for the first day or so, although I grew impatient seeing that my newly hatched vehicle had been awaiting transport for three days. After joining another owner-sponsored MINI site, I read an post where one member gave detailed directions on how to obtain the exact GPS coordinates of your MINI using it's VIN number and logging-on a shipping website. That seemed like crazy talk. Who would do such a thing?Well… me. I now know that my MINI is currently on a vessel named "Courage" en route from Southampton, England to NYC. I know when it left (11/23/07), and I know when it will arrive (12/3/07). Not only that, I know it's exact coordinates (N 40°54′, W 043°18′), and have been tracking its journey across the Atlantic. I am totally cyber-stalking my new car.The whole experience so far has been quite fascinating. I loved seeing every detail from every angle as I "built" the car on the website. I loved learning every mechanical detail. Mostly I love knowing that the product I just bought has an actual place of origin. Realistically, how many products do we own which we even know (let alone care) where it came from. The computer I'm typing this on… was it made in Taiwan? Malaysia? Heaven only knows.For now, I am trusting that my (soon to be named) MINI will have a safe journey, and that we will soon be motoring along. I can't wait to introduce you two.