Six Ways to Position a Haircare Brand to Connect With Salons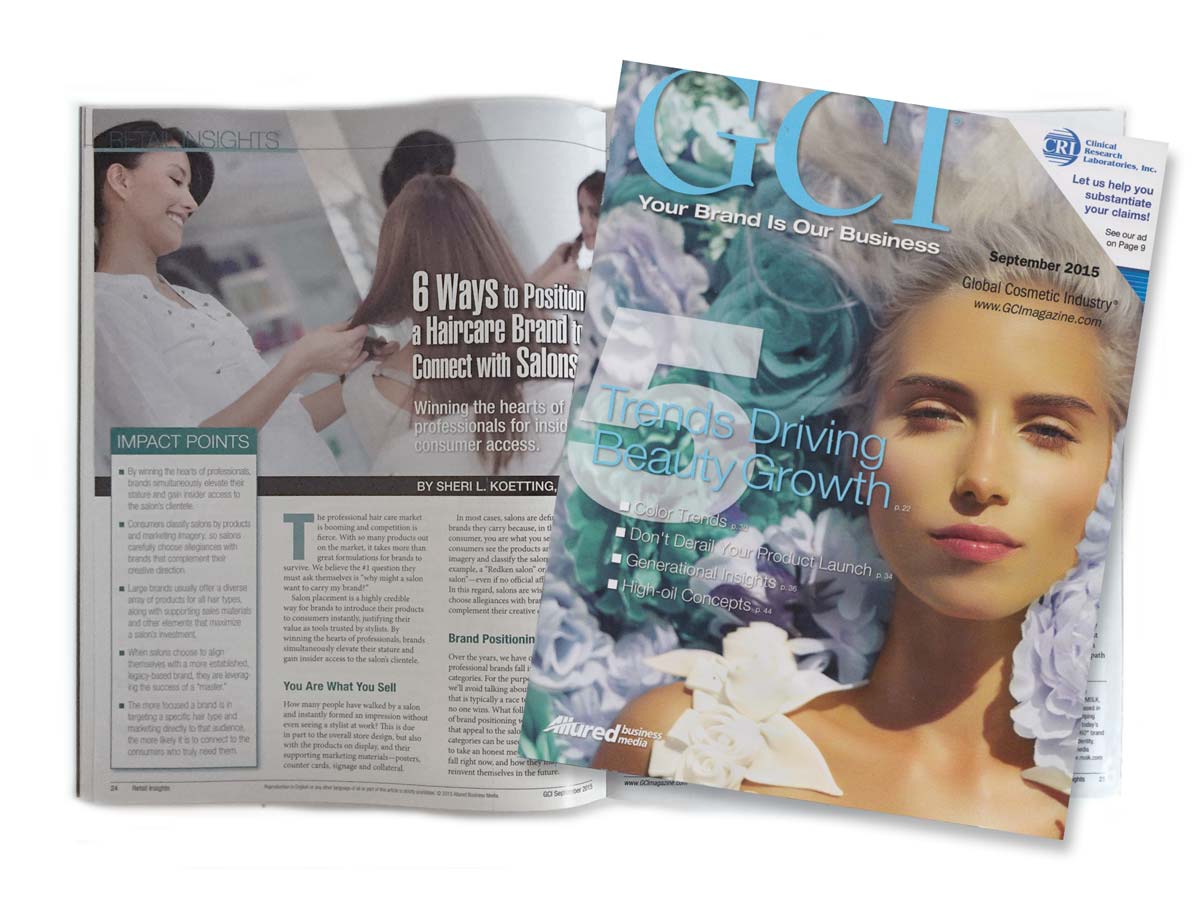 By winning the hearts and minds of professionals, brands simultaneously evolve their stature and gain insider access to the salon's clientele. Sheri Koetting was invited by GCI Magazine to share some of the ways in which she's learned how haircare brands could better connect with salons, which is in the September 2015 issue.
– – – –
The professional hair care market is booming and competition is fierce. With so many products out on the market, it takes more than great formulations for brands to survive. We believe the #1 question they must ask themselves is "why might a salon want to carry my brand?"
Salon placement is a highly credible way for brands to introduce their products to consumers instantly, justifying their value as tools trusted by stylists. By winning the hearts of professionals, brands simultaneously elevate their stature and gain insider access to the salon's clientele.
You Are What You Sell
How many people have walked by a salon and instantly formed an impression without even seeing a stylist at work? This is due in part to the overall store design, but also with the products on display, and their supporting marketing materials—posters, counter cards, signage and collateral.
In most cases, salons are defined by the brands they carry because, in the eyes of the consumer, you are what you sell. In essence, consumers see the products and marketing imagery and classify the salon as, for example, a "Redken salon" or a "Moroccanoil salon"—even if no official affiliation exists. In this regard, salons are wise to carefully choose allegiances with brands that complement their creative direction.
Brand Positioning
Over the years, we have observed that most professional brands fall into a few common categories. For the purposes of this article, we'll avoid talking about discount brands, as that is typically a race to the bottom where no one wins. What follows are six examples of brand positioning we commonly see that appeal to the salon world. These six categories can be used by existing brands to take an honest measure of where they fall right now, and how they may want to reinvent themselves in the future.
1. Established Brands
Some brands, such as Aveda, Goldwell or Schwarzkopf, enjoy the benefit of being around long enough to have literally made names for themselves. The most successful ones reap the rewards of years invested in marketing and advertising. This name recognition builds trust, and gives salons confidence to buy into their ecosystem. Large brands usually offer a diverse array of products for all hair types, along with supporting sales materials such as POP items, promotional materials, sampling programs, education and other elements that maximize a salon's investment.
2. Celebrity Stylist-Created Brands
Creatives in all professions seek inspiration from the "masters" in an effort to glean technical know-how and gain a deeper philosophy of their art. Hairstylists are no different. Some stylists are so influential that they inspire disciples, create schools, and develop their own products. Such is the case of brands like Vidal Sassoon, Paul Mitchell and Redken.
Over time, such brands can take on a life of their own in ways that can eclipse the person, standing for something even larger. There are many signature lines of current stylists from which to choose. When salons choose to align themselves with a more established, legacy-based brand, they are leveraging the success of a "master" as a credible foundation for achieving their own vision.
3. Ingredient Story Brands
Every brand makes a point of conveying the quality of its ingredients. Some brands take this further by leveraging an ingredient story (or stories) as the basis for their key point of difference. The story may be based on a scientific rationale behind the use of a single ingredient or a unique formulation. Brands such as Moroccanoil and Macadamia Professional come to mind. Many new brands found the key to their success came by way of marketing a trend-setting ingredient—especially if the ingredient is tied to a specific result. Salons find this appealing because the brand story becomes an easy one to tell and then sell to consumers.
4. Hair Type Brands
More and more brands are seeing the value of product line organizations that are driven by consumer needs and end-benefits. Many brands have a single product or a product line dedicated to a specific hair concern. However, some brands go the extra mile by targeting a niche market.
This connects with the right customers by catering directly to them and their needs. Brands targeting curly and/or ethnic hair are currently the most common in this category, as demonstrated by Carol's Daughter, Ouidad and Deva Curl. We are also seeing a trend of brands, such as Roux, specifically offering full-service lines for aging hair.
From both a salon and consumer's perspective, it is important to know whether a brand is ideally suited to a particular hair concern. The more focused a brand is in targeting a specific hair type and marketing directly to that audience, the more likely it is to connect to the consumers who truly need them.
5. Hairstyle Philosophy Brands & Overall Attitude
Rather than hone in on a specific hair type as in the example above, some brands focus their raison d'être by exuding a singular attitude, point of view and/or philosophy. This vision typically spans many hair types and styles to target a narrow demographic. The brand promise also tends to be less focused on a concrete results-driven concept than on a more aspirational goal.
A great example here would be Sexy Hair, whose brand promise is big, sexy hair, yet more open to individual interpretation of what that end result could be. Another great example would be the "street-cred" appeal of the brand KMS California. From their trendy hair manifesto to the imagery and styling of their education materials, KMS California lets stylists know that they are designed for today's urban, 20-something consumer.
6. Disruptive Design
In fashion and beauty, tastes change. So does packaging. Savvy companies are aware that they're in the beauty business and cannot let dowdy packaging denigrate their brand perception. The same holds true for salons; the aspirational sense of surrounding yourself with beautiful things can have a "halo" effect on your salon.
The value of design is entering the consciousness of salons and consumers alike. This leaves plenty of white space open for brands to demonstrate value through their packaging shape, materials, graphics and other design cues that indirectly signify the quality of the product. Many are recognizing the importance of appealing to the emotional side of consumers, and realize that the brand experience goes far beyond the few moments a product is used. Bathrooms have become personal sanctuaries where the products on display bring joy, even when not in use. Brands such as Kevin Murphy and Davines are examples of amazing products in head-turning packaging.
What's Next?
Whether you are an emerging brand or an established one, the concepts presented above can serve as a guide to help you understand what categories already exist and where your brand might fit. However, the reality is that brands can certainly blend into more than one category in any way that suits them. Leveraging your best assets with a strong, clear brand position that resonates with salons sets a strong path toward achieving success.