Marshall Watson: Website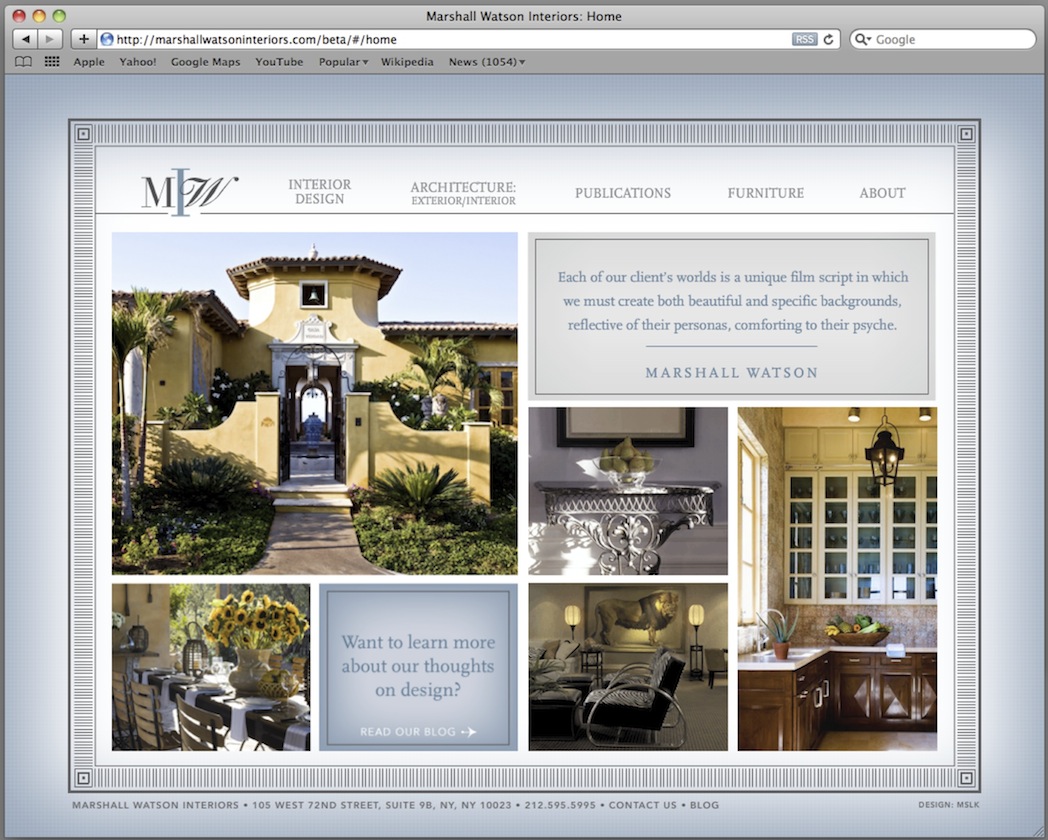 Challenges
Marshall Watson Interiors, a leading interior design firm, was looking to create an online presence for themselves. Despite being an established firm of over two decades, they lacked a structured brand presentation and did not have a set vision of how their website would function.
Strategy
MSLK began with a site map which served as a crucial step in strategizing how to represent the brand. This process led to division of the website into four distinct sections: interior, architecture, publications, and furniture. With this newly established structure, we helped categorize each project to create a formal presentation format for their clients, focusing on content management and easy updates.
MSLK recommended creating a blog to serve increased search engine optimization and as main source to showcase Marshall's weekly articles for the Southhampton Press.
Design
Taking the fundamentals of their existing identity, MSLK created a sophisticated platform where the firm's portfolio became the focus. Each project is presented as an individual vignette accompanied with simple navigation features that encourage the viewers to explore as many projects and cross reference all their work. The blog followed the same color scheme and type choices and features their recently published work, while also incorporating a tasteful SEO tag cloud into the design.
Success
Developing a strategic online presence essentially transformed the way Marshall Watson Interiors handled client meetings. Not only did the website provide a consistent presentation of the brand itself, but it also became a common visual reference that clients could use to have a virtual walk through. Furthermore, the website provided a touch point where the press they received could go to get more information. The site was recently optimized for viewing on iPads, which have become the primary viewing devices for Marshall's clientele.