Cheeky "Bitch" Provokes Snobby Wine Business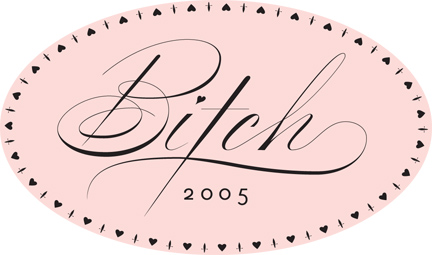 To begin with: I am a big food and wine lover. I like simple, authentic meals. Spaghetti with a classic "Ragù alla Bolognese" and a glass (or two…) of red wine makes me happy. I recently found a red wine that goes well with pasta. I only bought it because its name, Bitch, made me both chuckle and curious about its taste. Bitch wine is more than a smart marketing strategy though. It's a fairly priced, fine Australian red wine with an earthy note. And what I like most about it: its ironic name gives the snobby, serious wine industry a refreshing twist.

Bitch wine is a project of the partnership between Dan Philips' Grateful Palate Imports and Chris Ringland's R Winery. Winemakers Chris Ringland and Lisa Wetherell use fruit from the Barossa Valley in South Australia.
Most wine names and labels are either very rational or classic and traditional. One reason for this might be the strict regulations by the Federal Government. The provocative name "Bitch" and the pink label certainly stand out of the crowd. In addition, this naming and design strategy helped reaching a younger segment than the classic wine business' target audience.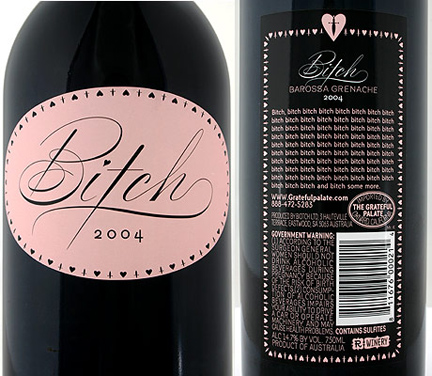 The back of the label is quite extraordinary too: It says "Bitch" 77 times, followed by "bitch some more". It's up to you to decide what that means… Whatever inspired it, I am happy it arrived.
In case you ran out of ideas what to bring to dinner parties – Bitch wine is a cheeky and cool gift (instead of this box of chocolates you usually bring).
By the way: R winery has more extraordinary wine names and labels: For example "Evil Cabernet Sauvignon 2005".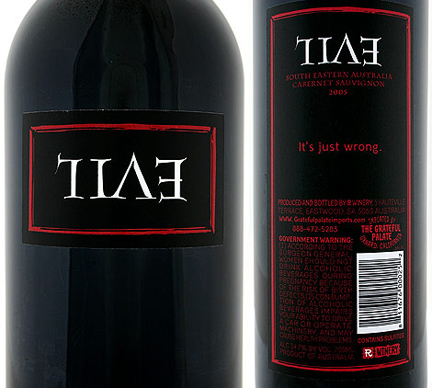 I also like the label for their Shiraz "Strong Arms" wine: