Equal Rights For Furniture: Socks For All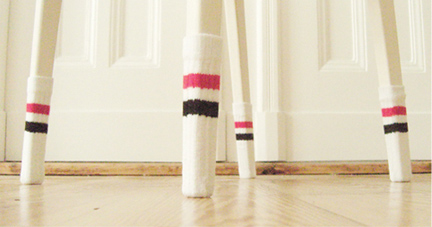 Your chair is always there for you, day and night, 365 days a year. It never gives you any lip when you toss your coat over its back after a long day it without so much of a thanks. Think of all those times it's supported you when you were feeling tired.
What about all the times you've strained it by forcing it to sit on its hind legs while you brag to your mom about how sweet your Facebook wall is looking these days? Nary a complaint from the stoic chair, the most loyal of  our four-legged friends.
So why do we make these poor things live out their days standing naked on a hardwood floor?
Product and interior designers Chris & Ruby have a stylish solution: Socks. No longer an exclusive luxury for the mega-rich, socks are being enjoyed by people of all tax brackets for some time now, and probably their furniture.
If you're looking for a way to say "thank you" for all that your chair does for you, I would strongly urge you to pick up a pack today.
And, if you're thinking about trying out some socks for yourself, I wouldn't hesitate any longer… Wigwam Mills is still making some of the best, US-made ones around.