"Take-Less" in Art Under the DUMBO Arts Festival September 24th – 26th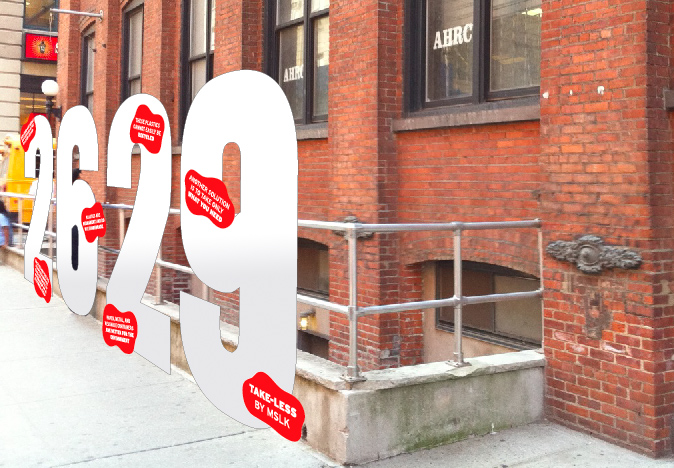 Come see MSLK's eco-art installation, Take-Less, at Brooklyn's Dumbo Arts Festival on September 24th – 26th!
We're pleased to be a part of this amazingly creative event once again, building on the success of last year's event. Our project can be seen on Washington Street, the center of all the action for DUMBO's annual art festival.
The event itself is described by the event planners as a showcase for: "touchable, accessible, and interactive art, on a scale that makes it the nation's largest urban forum for experimental art."Take Less is MSLK's 3rd project in a series of eco-art installations focusing on society's thoughtless consumption of plastic. The number depicted, 2629, stands 8-feet high and represents the quantity of takeout meals consumed each second in the United States. Within these meals are countless plastic components designed to be used once and thrown away. To illustrate this, plastic containers of every imaginable type are mounted to the number's surface. Additionally, informational signage containing facts and solutions are mounted to the piece.
The purpose of the installation is to help people visualize the immense waste we produce, all in an effort to inform viewers that they can be a part of the solution. How? By requesting recyclable components, saying no to plastic utensils, containers, etc.
For more information about the festival, click here.